Hi!!! Welcome to 2013!!! What better way to start the year, than with a cute calender to pencil in upcoming project due dates!
Sure feels like for EVER since I last pulled an all nighter creating!! I enjoyed crafting again, even if I had to stay up till after 7am to complete it! Yeap, I procrastinated my self into a corner! It was due or fail and there is no failing in this house!..sooo I finally completed my project a lil' bit after 3am. But then there was the video...the editing, the pictures, the blog, and can't forget facebook...oh my! lol Now with all that done, I can't wait to go see what the cubs created! We have been shredding paper, gnawing on ribbon and playing with flowers trying to get our 2013 Calendars complete! Would love it if you would pounce over to everyone's blog and check out the different style Calendars the baby cubs created!
After you check out
MY
calendar, would sure appreciate if you would pounce on over to
Krystals blog
, she had A "WHOOT' of a time creating her calendar...(wink).
So do you have a calendar yet??? a pretty one? one you created??? I sure hope we inspired you to create one you can show off on your desk at work or give away as a gift!
OK now, let me show you what I created...
It stands tall at 8" and has all sorts of flowers, bling and purdy Martha Stewart paper punch designs! Love it! I'm taking this in to work with me Monday to put on my desk!! It turned out pretty sturdy. Who wants a tutorial??? give me a shout out...watch the video, it has more pictures and I show you how it works! Its only 2 pages with Calendars on either side, here...watch my vid here...
SAVE THE DATE VIDEO
.
Lots of I AM ROSES flowers... check her site
here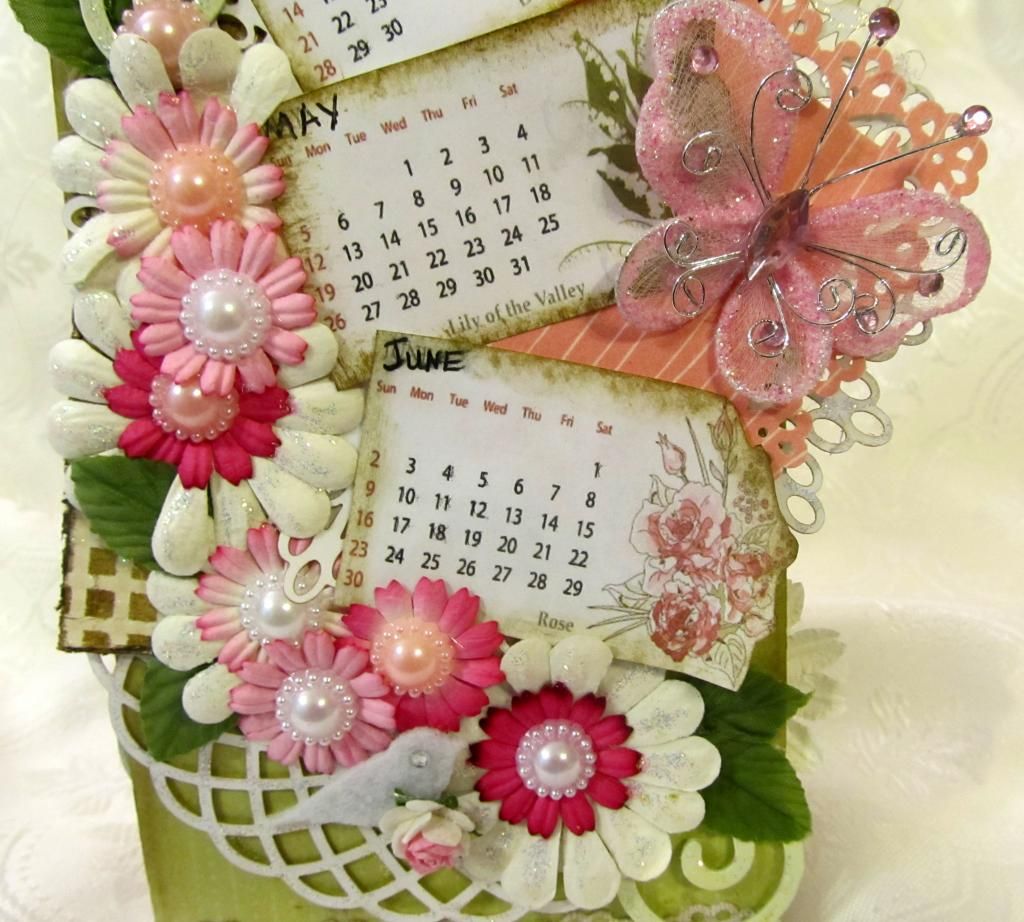 These butterflies and flower are our very own Alphas's
designs...she crochet them! I love them!!! thanks KIMI!!
Visit her blog here...
Unique Scrappiness
Do you like? Leave me a comment and let me know what you think!
Thanks so much for stopping by...now ROARRRRRRRRRRRR and pounce on over to the next blog...
Krystals!
!
and dont forget to ROAR WITH PRIDE!
oh oh oh...Also, I wanted to tell you that each cub has created their very own FAN PAGE on Facebook! If you follow the little cubby on the left side bar of my blog it will take you to a page where you can find all our pages...go leave us sum luv! or better yet click HERE.
here is the line up ...follow the paw prints ...
Elsa