Hello! Sept is here. Wow! Where did Aug go??? Pretty soon, Christmas will be here, I feel so rushed! lol How many of you all getting ready for the Holiday already? Making these few Christmas cards for the Heartfelt Design Team have really put a rush on me this year. I have completed 10 card with envelopes mind you, lol that is the most I've done in years to prepare for any holiday. Here is one more Christmas card I made to try and inspire you guys.
Let me know what you think...


This is a very sparkly card, thanks to Stickles [which I put on EVERYTHING!] but the picture did not capture it :(
Here is how it was made and what was used...
Products used:
HCD1-7108 Snow Kissed Flakes and Tag dies
HCD1-743 Raindrop on Roses Die
HCPC-3750 Frolicking Frosty Cling Stamp
HCD1-7107 Frolicking Frosty and Spruce dies
Snow Kissed Paper Collection
Other materials used, white card stock, Stickles "Star Dust", Copic markers RV69 Peony - B95 Light Grayish Cobal - B10 Cool Shadow, paper rounding tool, flat back blue beads.
This card is the easiest card ever.
1. You will need a piece of white cardstock 6 x 9.50, fold in half, this makes your card base.
2. Cut a 5.75 x 4.50 piece of paper from the Snow Kissed Collection, [round all four edges] this will make the first mat you will layer over your card base.
3. Die cut Large Snowflake Background which measures 4.2 x 4.2" from the designer paper collection and die cut the Decorative Snowflake which measures 4 x 4" and the lacy accent that features hearts nestled amidst elegant swirls also from the white card stock.
4. Stamp, color using the Copic markers mentioned above and die cut the cute snowman. Stickel his scarf and set him aside to dry.
5. From the designer paper, cut a sentiment of choice, I liked one that read, "Celebrate the Season". Layer it over a piece of white card stock and cut each side banner style.
6. Layer it all, adhere the lacy accent to the mat then the snowflake background and the decorative snowflake. on the left hand side add your cute snowman and the sentiment on the right hand side. Add a tiny flat back bead to the corners, Stickle the white snowflake and you're done!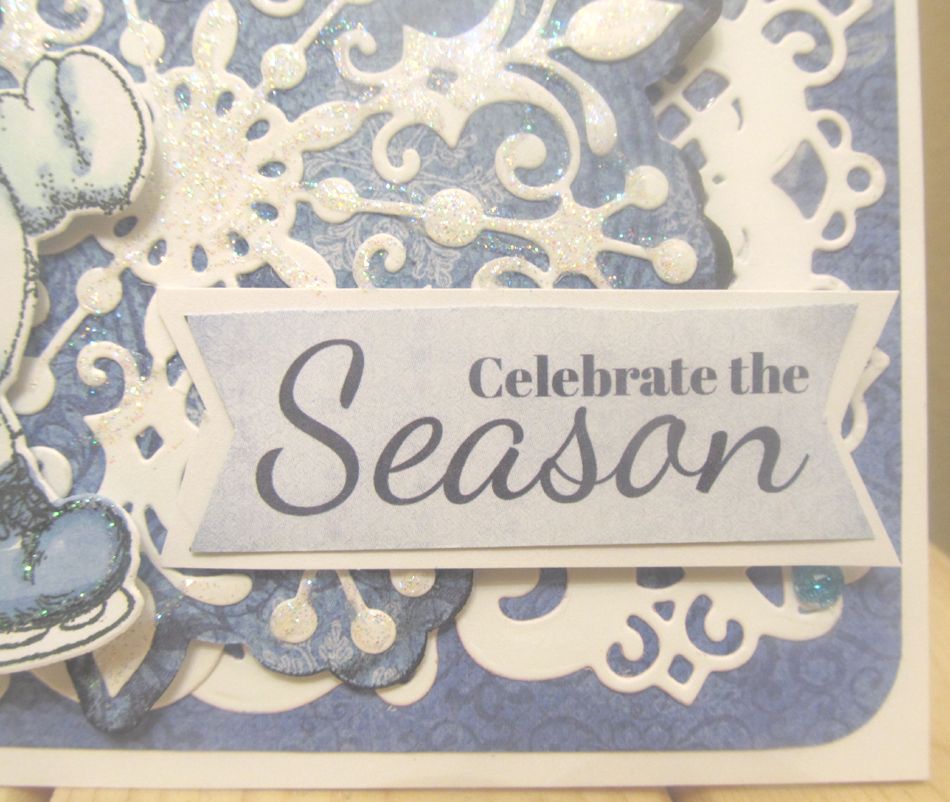 Thank yo so much for stopping by an as always...