Wednesday...hump day! Only a couple days till Friday my favorite day of the week. I have been video taping a little bit more and thanks to Heartfelt creations I have been creating at least one project a week and it has been so much fun!! This week I didn't know if I wanted to make a card or a tag, so I started with a card and added a tag lol Nah', I made a tag... loving this colors.
What do you think...


Really easy to make... here is what I used...
HCD1-7110 Classic Rose Die
HCD1-7111 Classic Rose Vine Die
HCPC-3752 Classic Rose Cling Stamp
HCPC-3753 Classic Rose Vine Cling Stamp
Designer paper. "Classic Rose Collection"
Other products used Pin floral flat back bead, white, red, black card stock, 3" piece trim, Stickles, "Diamond Dust", Tim Holtz distress inks in "Peeled Paint" and "Spun Sugar" Recollection bling
3.75 x 4.75 white card stock
3.50 x 4.50 designer paper,
4 x 5 black card stock
layer this pieces one on top of the other. On this last layer, curl the edges inward. From the paper cut some of the pre-printed small roses and leaves and tuck them on each corner of the tag behind the curled edged.
From the Classic Rose paper collection cut one of the pre-printed tag and distress and tear the edges and layer on top. At the base of this tag add the pretty piece of trim.
Stamp, color and die cut enough petals and leaves to make 3 flowers. [color flowers and leaves with the above mentions Tim Holtz distressed inks.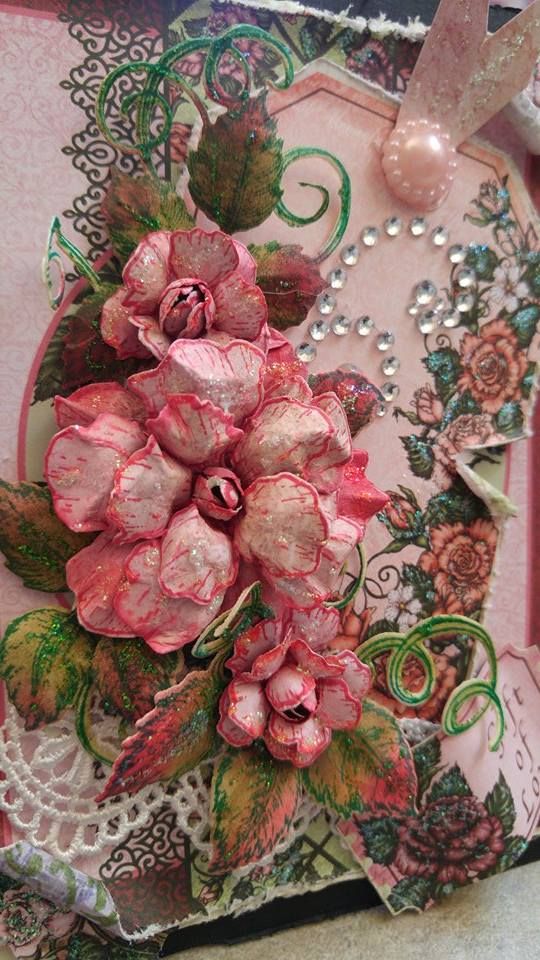 Arrange the flowers over the vines on the Tag and center the Bling, also cut one of the pre-printed tickets, I used "A Gift of Love" sentiment, and adhere it on the bottom right side of the tag.
Add a piece of designer paper 4 x .50, fold it in half and adhere to the top of the tag, adhere the flat back bead.