Hi!!! So Christmas continues... just can't get enough of these papers and dies!! For my final project using this awesome paper collection "Celebrate the Season." from
Heartfelt Creations
I made a long card, this was by far the easiest card to create...
Have you guys started your Christmas cards yet??? hope this inspires you to create...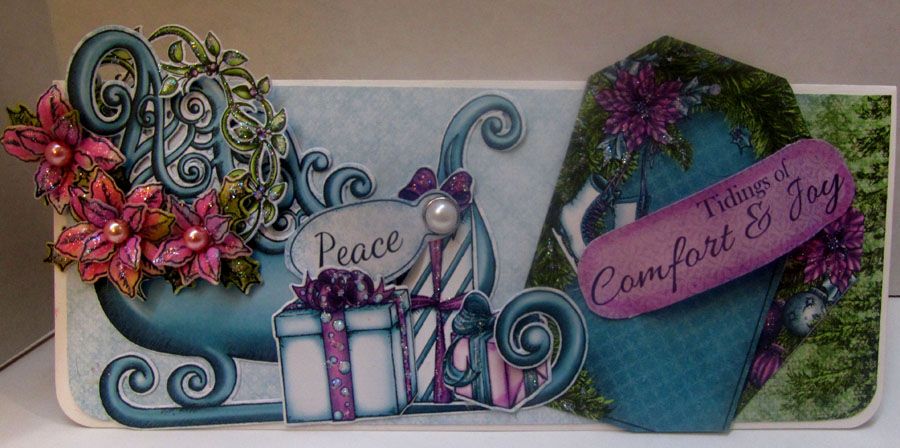 see I told you it was long... It would be so easy to add a gift card on the inside of this card, it just feel like a money card,,, my girls would love a couple $100 bills within this card! lol
This is what was used to make this card...
Products Used:
HCPC-3747 Cling Stamp [wreath and poinsettia]
HCD1-7106 Die Set
HCPC-7106 Die Set
HCPC-3745 Ornate Sleigh Cling Stamp  
HCPC-3748 Gift Wrapped Present die set
Celebrate the Season designer paper collection


Other Products: Sickles, white card stock, Glass Beads, Tim Holtz distress inks in Spun Sugar and Forest Green Moss, pearl brad

Cut a piece of white card stock 8 x 7 and fold it in half long ways. This makes the card base.

Stamp, color and die cute the poinsettias and the wreath.  I used the distress inks.  I made 3 flowers for this project, added glass beads for the centers 
and arranged them around the wreath.  Added Stickles, the leaves and set it aside to dry.
Using the sleigh die-- cut the pre-printed image from the paper collection, also die cut 3 of the presents and two of the tags, [also from the paper collection]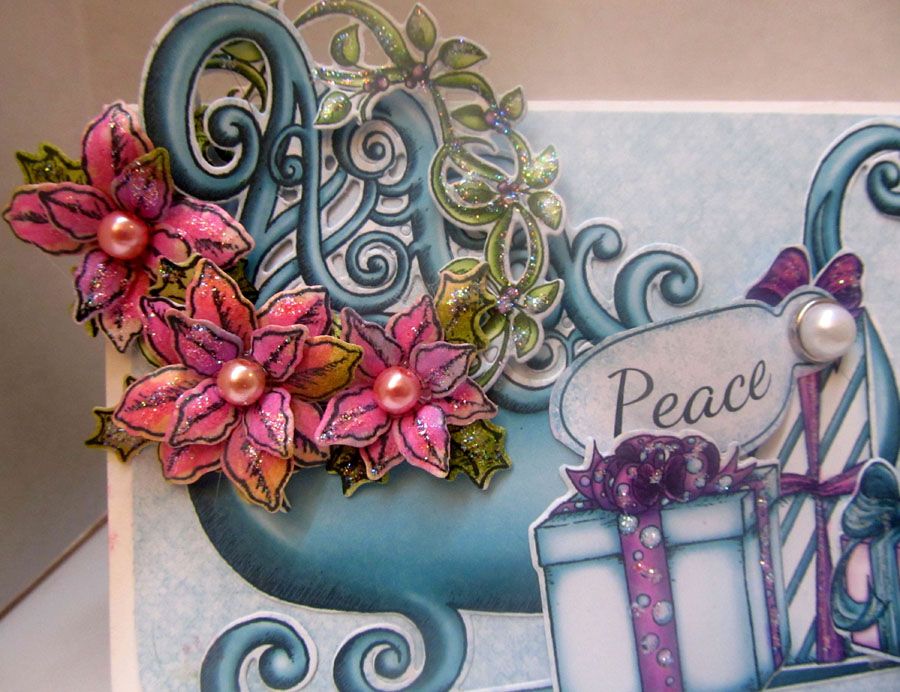 From the paper collection
I cut --[7 3/4" x 6 3/4"]
and used one on the inside of the card and one on the front of the card. Stamp-- "Merry Christmas" to the inside of the card.
Over this, layer the sleigh, and attach the wreath on the upper left hand corner of the sleigh, and on the bottom of the sleigh attach the 3 gifts.
Add one of the sentiment tags to the tallest of the gift images using the pearl brad.
Adhere the tags, layering them one over the other and then add the sentiment to the opposite side of the card. Stickle everything you want shiny...and you're done!
Thanks so much for stopping by and as always...