hello! looks like Christmas continues with the Heartfelt design papers...and so, I am continuing to make Christmas cards. The next four weeks, you will see a couple of frolicking frosty and lots of spruce trees!! These papers are beautiful, I had my Brandon -grandbaby- in the room with me while I was making this card and he loved the snow man. He must have stamped and cut like 20 of them, he just thought it was so much fun!! anyway... here is my project for this week, let me know what you think...


Here are the Products used:
Snow Kissed paper Collection
HCPC-3750 Frolicking Frosty Cling Stamp
HCPC-3749 Snow Kissed Spruce Cling Stamp
HCD1-7107 Die [Spruce and Frosty]
Other products used: Color Box Pigment Stamp pad "silver", Tim Holtz "Peeled Paint", Sheer Riboon 22". Stickles "Gold and Crystal" Copic marker BG10 "Cool Shadow"
White card stock
Cut the white card stock 10 1/2" x 5 1/2" and fold in half, this makes your card base. From the paper collection I cut the card background. I chose the corner
that read "Silent night Holy night".
Stamp the trees with the Silver and Peeled paint and die cut them. Stickle them and set them aside to dry.
Stamp the cute little Frosty and color it with the Copic marker mentioned above and die cut it.
Layer the trees starting with the tallest on the back then the snowman and in front of the Frost, adhere the smallest of the trees.
Wrap the ribbon around the inside of the front of the card and tie a bow on the uppper part of the card.
Done...simple card made easy...Have fun creating!





I used the designer paper for the inside of the card... leaving some blank space for a hand written sentiment.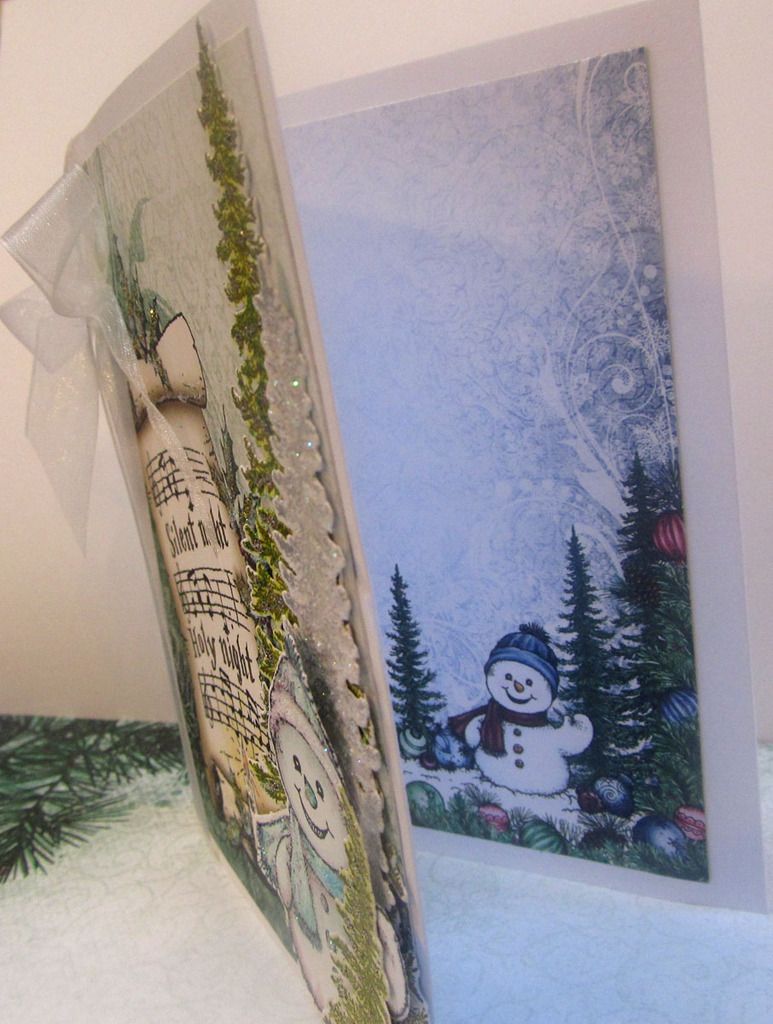 Hope you enjoy your crafty time...
.thanks for stopping by and a always...